Participation Criteria

Courses can be taken for training as professional or personal development, or for university credit. Participants taking a course for training are strongly encouraged to complete course readings, but are not required to complete course assignments. Students taking courses for university credit will be expected to complete readings and assignments. A syllabus will be distributed by the beginning of each course.
All CSOP participants must have:
Proficiency in spoken and written English. If English is not your first language and your education was not primarily in English, you will be required to submit a writing sample as part of the application process.
A secondary-school diploma and at least two years of university or equivalent work experience
Please note that CSOP's application process is independent of CMU's admission process. For admission requirements and procedures, please go to http://www.cmu.ca/. For information on CMU's Masters of Arts in Peace and Collaborative Development, please go to http://www.cmu.ca/academics.php?s=ma_pcd.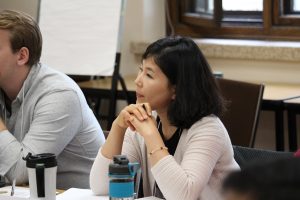 Application Deadline

All applications must be received before April 1 to avoid the non-refundable late fee of $50.
International Applicants – No applications will be accepted after May 3, due to the times required for visa processing.
Canadian/US Applicants – Late applications may be accepted until the day before courses begin, space permitting.
CMU Students (already admitted to a degree program) – Register through your Student Portal by April 1st. Late registrations may be accepted.
Once a class is full, any further participants may join a waiting list, or may be registered in their second choice, if indicated on the application form, until a space opens in their first choice. In past years, some CSOP courses have filled up, so apply early to ensure your place in the course of your choice.
Course Requirements & Materials

All CSOP participants are expected to attend class sessions, which run from 8:30 a.m. – 5:00 p.m., to engage in class activities, and to complete the basic reading assignments. Additional requirements for those earning academic credit will be included in the course syllabus.
Course syllabi and introductory readings will be available online prior to CSOP for those registered for courses. Those who do not have access to the internet will receive these materials upon their arrival. Course readers will be distributed the first day of each class. Books listed in the syllabi should be ordered ahead of time by participants.
The deadline for completion of CSOP 2020 academic course work is August 14, 2020.