Application & Course Requirements
PLEASE NOTE: Due to the ongoing travel restrictions and social distancing directives in place across North America in response to the global COVID-19 pandemic, CMU's Canadian School of Peacebuilding (CSOP) has announced changes to its June 2020 courses and will not be hosting in-person courses in 2020. Please see this post for more information.
If you are registered FOR ACADEMIC CREDIT, there are readings and an assignment due on the first day of class. View your syllabus for details
Registration is closed for CSOP2020.
Participation Criteria

Courses can be taken for training as professional or personal development, or for university credit. Participants taking a course for training are strongly encouraged to complete course readings, but are not required to complete course assignments. Students taking courses for university credit will be expected to complete readings and assignments. A syllabus will be distributed by the beginning of each course.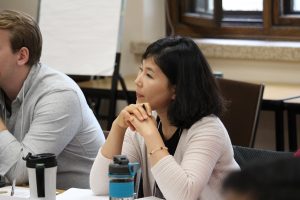 All CSOP participants must have:
Proficiency in spoken and written English. If English is not your first language and your education was not primarily in English, you will be required to submit a writing sample as part of the application process.
A secondary-school diploma and at least two years of university or equivalent work experience.
Please note that CSOP's admission process is independent of CMU's admission process. For CMU's admission requirements and procedures, please go to https://www.cmu.ca/future.php?s=undergrad&p=admission_reg. For information on CMU's Masters of Arts in Peace and Collaborative Development, please go to http://www.cmu.ca/academics.php?s=ma_pcd.
Application Process

You can apply online or you can download a PDF registration form, which can be returned by email to csop@cmu.ca or by mail to the address on the form. CMU students who are already admitted to a degree program should register through their Student Portal. We suggest that you submit your application as soon as possible, especially for participants requiring visas for Canada, as the visa process can take a long time. Payment is required to complete your application and to reserve your place in the course. Once your application is complete, we will review it and will be in touch by mail or e-mail.
Application Deadline

In light of the changes we are making due to the COVID-19 pandemic, we are waiving the $50 late fee for all applications. The application deadline for all courses is the Friday prior to the course beginning (May 29 or June 5).
Once a class is full, any further participants may join a waiting list, or may be registered in their second choice, if indicated on the application form, until a space opens in their first choice. In past years, some CSOP courses have filled up, so apply early to ensure your place in the course of your choice.
Course Requirements & Materials

All CSOP participants are expected to attend class sessions (see our Courses page for dates and times), to engage in class activities, and to complete the basic reading assignments. Additional requirements for those earning academic credit will be included in the course syllabus.
Course syllabi and introductory readings will be available online prior to CSOP for those registered for courses. Course readings that are not required to purchase will be distributed the first day of each class. Books listed in the syllabi should be ordered ahead of time by participants.
To participate in the 2020 CSOP online, you will need (at minimum):
A computer or mobile device with a camera, microphone, and speakers. A headset with microphone is useful (but not required) for this purpose and to cut down on background noise
A strong enough internet connection to connect to Zoom (click here for Zoom technical specifications). Please review the section that gives bandwidth requirements and confirm that you will be able to meet these requirements.
The ability to access and download documents from and upload documents to an online learning platform (OneNote, BlackBaud, Moodle, etc.)
The ability to stream videos posted by faculty members and classmates.
There will be a technology check in the week prior to your course. We want to make sure everyone is able to participate and feels comfortable with online learning prior to when courses begin (If you are unsure that you have the minimum technology requirements needed to participate in zoom conferences, please check the Zoom technical specifications here).
The deadline for completion of CSOP 2020 academic course work is August 14, 2020.
Withdrawal Policy for Academic Credit Students

The last day to delete a course from your registration is 8:30 AM on the second day of the course.
The last day for voluntary withdrawl from a course is July 15, 2020.