This site will be updated as new events are planned. Please bookmark this page and/or like our Facebook page to continue to receive updates from the Canadian School of Peacebuilding.

View the Livestream below on June 13, 7:00 PM (CDT)

A public lecture with Monika Maria Kalcsics

7:00 PM (CDT) | Wednesday, June 13, 2023
Livestreamed and in-person
Marpeck Commons, Canadian Mennonite University
2299 Grant Ave.
admission is free and all are welcome
Going Local with International Crises: The Storytelling Dilemma

How do international non-governmental organizations tell their stories when the pressure from news outlets is increasingly to create a hyper local connection? This public event will include a presentation with Monika Maria Kalcsics, a response from Susan Tymofichuk – Managing Editor, CTV News Winnipeg, and a Q&A with the audience.
Monika Maria Kalcsics is a journalist with more than 20 years of experience in public service media, print, TV and film. Reporter, producer and commissioning editor of award-winning documentaries and reports. Currently employed by the science, education and society department at Austria 1, the national information radio channel of ORF (Austrian Public Broadcasting Corporation). She is the head of the multimedia initiative "Fixing the Future – Casting new ideas." Founding member of the production company name>it positive media, covering underrepresented areas in the media. Across this time, she also made emergency aid missions, establishing communication lines. Her combined career as a journalist and emergency aid worker has allowed her to understand the challenges we face when confronted with a humanitarian disaster and the need to report it. She was granted a fellowship at the Reuters Institute for the Study of Journalism at Oxford University to research the relationship between aid organizations and the media in a "competitive compassion market".
Past Special Events

---
Missed Johonna McCants-Turner's lecture? View it below.

A public lecture with Johonna McCants-Turner

7:30 PM | Wednesday, June 16, 2022
Livestreamed and in-person
Marpeck Commons, Canadian Mennonite University
2299 Grant Ave.
admission is free and all are welcome

Choosing Love in the Wake of Wounding

Join us as Dr. Johonna McCants-Turner will talk about how women of colour essays, activists, organizers, and practitioners in the restorative and transformative justice movements reflect on the role of love in responding to violence through healing and accountability without punishment.
McCants-Turner is Associate Professor of Peace and Conflict Studies at Conrad Grebel University College at the University of Waterloo. She formerly served as a special education teacher with the District of Columbia Public Schools, the founder and director of the Visions to Peace Project, and an adjunct professor at the University of Maryland, where she earned her PhD. She also holds a Certificate in Urban Youth Ministry from Fuller Theological Seminary, and a Graduate Certificate in Women's Studies from the University of Maryland. Dr. McCants-Turner is a founding advisory board member of Life Comes From It, a US-based grant making fund that invests in Black, Indigenous, People of Colour-led movements for restorative justice, transformative justice, and Indigenous peacemaking. She is currently working on her first book, In the Wake of Wounding: Black Womanist Ethics and Reparative Justice (Wm. B Eerdmans Press).
[ news release ]
---
Missed William Cavanaugh's lecture? View it below.

A public lecture with William Cavanaugh

7:00 PM | Wednesday, June 17, 2020
Online Event
admission is free and all are welcome

The Myth of Religious Violence

Dr. William Cavanaugh is an American, Roman Catholic theologian known widely for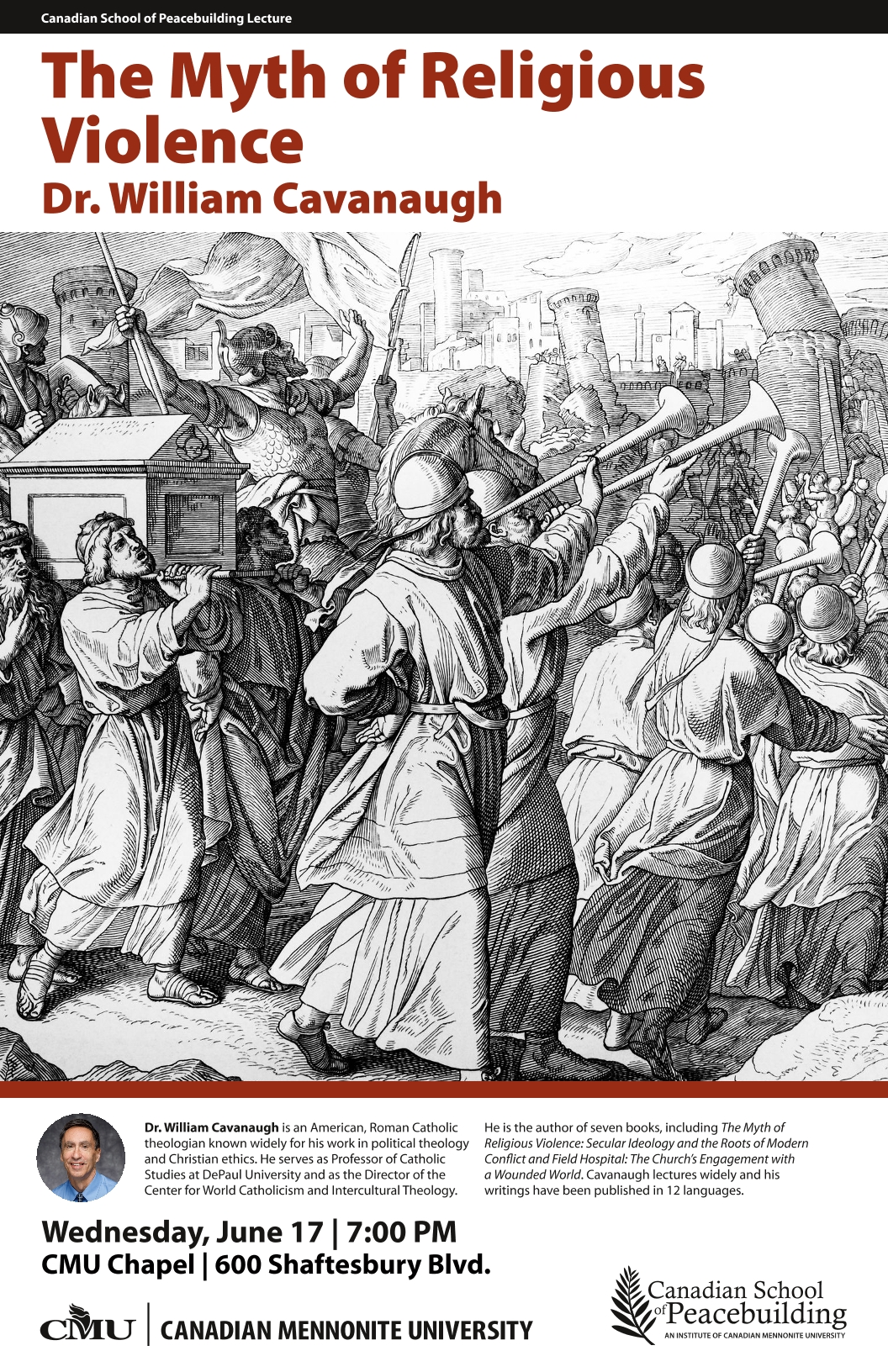 his work in political theology and Christian ethics. He serves as Professor of Catholic Studies at DePaul University and as the Director of the Center for World Catholicism and Intercultural Theology. He is the authorof seven books, including The Myth of Religious Violence: Secular Ideology and the Roots of Modern Conflict and Field Hospital: The Church's Engagement with a Wounded World. Cavanaugh lectures widely and his writings have been published in 12 languages.
---
Missed Emily Welty's lecture? View it below.

A public lecture with Emily Welty

7:00 PM | Wednesday, June 19, 2019
Marpeck Commons, Canadian Mennonite University
2299 Grant Ave.
admission is free and all are welcome

Imagination, Courage, and Resilience

Amidst feelings of hopelessness in the face of injustice, inequality and systems
of oppression, how can we create communities of imagination, joy and
resistance? Join Dr. Emily Welty as she explores these intersections by
reflecting on her Nobel Peace Prize experience as part of the International
Campaign to Abolish Nuclear Weapons.
Welty is an activist, academic, and artist working in the field of Peace and Justice
Studies. She is a professor and director of Peace and Justice Studies at Pace
University in New York City and currently serves as the Vice Moderator of the
World Council of Churches Commission on International Affairs.
She has worked on nuclear disarmament from the perspective of faith-based
resistance to nuclear weapons and was part of the International Campaign to
Abolish Nuclear Weapon's 2017 Nobel Peace Prize. Her scholarship and research
focuses on faith-based peacebuilding and development work as well as nonviolent resistance.
[ news release ]
---
Missed Fernando Enns' lecture? View it below.

A public lecture with Fernando Enns

7:00 PM | Tuesday, June 13, 2018
Marpeck Commons, Canadian Mennonite University
2299 Grant Ave.
admission is free and all are welcome

A Transformative Spirituality for Peacebuilding

The WCC project, Pilgrimage of Peace and Justice, calls on churches everywhere
to walk together, to view their common life and journey of faith, as part of the
pilgrimage of justice and peace, and to join together with others in celebrating
life and to take steps toward transforming injustices and violence.
Dr. Fernando Enns is Professor of Theology and Ethics at Vrije Universiteit (Free
University) in Amsterdam, Netherlands, and Director of the Institute of Peace
Church Theology at the University of Hamburg, Germany. Enns is a World Council
of Churches (WCC) central committee member, and is the co-moderator of the
pilgrimage reference group and of its theological study group.
[ Fernando Enns Lecture – Powerpoint slides ]
---
Missed Senator Murray Sinclair's lecture? View it below.

CSOP 10th Anniversary Public Lecture with Senator Murray Sinclair

7:00 PM | Monday, March 5, 2018
Marpeck Commons, Canadian Mennonite University
2299 Grant Ave.
admission is free and all are welcome

The TRC, Calls to Action and the Mountain Before Us: Stories of Hope and Challenge

As part of CSOP's 10th anniversary celebrations, CMU is honored to host Senator
Murray Sinclair as he shares stories and insights of Canadian communities,
churches and educational institutions responding to the TRC 94 Calls to Action.
This is both an in-person and live-streamed event. We hope you'll join us.
The Honourable Senator Sinclair served the justice system in Manitoba for over
25 years. He was the first Aboriginal Judge appointed in Manitoba and Canada's
second. He served as Co-Chair of the Aboriginal Justice Inquiry in Manitoba and
as Chief Commissioner of the Truth and Reconciliation Commission (TRC). As
head of the TRC, he participated in hundreds of hearings across Canada,
culminating in the issuance of the TRC's report in 2015. He also oversaw an
active multi-million dollar fundraising program to support various TRC events
and activities, and to allow survivors to travel to attend TRC events.
[ news release ]
Missed John Ralston Saul's lecture? View it below.

A public lecture with John Ralston Saul

7:00 PM | Tuesday, June 14, 2016
Marpeck Commons, Canadian Mennonite University
2299 Grant Ave.
admission is free and all are welcome; donations will be accepted in support of CSOP bursaries

Living with Uncertainty: The Road to Peace

Canada is more and more isolated from its allies because, without exception,
the United States and European countries are shaping themselves towards
internal divisions and external fear. They remain caught up the in old 19th
Century idea of how nations function. You can see this in Europe on their
handling of the refugee crisis. One of the curiosities of the continent is that
every year over the last 70 years it has received large numbers of
immigrants, and yet it has never been able to admit that this would require
massive changes in how they imagine themselves. In many ways, this crisis
is all about an immigration continent which cannot admit that reality, and
so, has no immigration policy. Only by embracing concepts of uncertainty
can they find ways to live together, both within their countries and
with their neighbours.
John Ralston Saul is an award winning essayist and novelist whose
contributions have had a growing impact on political and economic thought
in many countries. Declared a "prophet" by TIME magazine, he is included in
the prestigious Utne Reader's list of the world's 100 leading thinkers and
visionaries. His 14 works have been translated into 28 languages in 37
countries. Some of his most important works include the philosophical
trilogy, Voltaire´s Bastards, The Unconscious Civilization, and The Doubter's
Companion with its conclusion, On Equilibrium. His most recent work, The
Comeback (Le Grand Retour)—an examination of the remarkable return to
power of Aboriginal peoples in Canada—has greatly influenced the national
conversation on Indigenous issues in the country. Saul is the former President
of PEN International, co-Founder and co-Chair of the Institute for Canadian
Citizenship. He is a Companion of the Order of Canada and the Order of Ontario.
— johnralstonsaul.com
[ news release ]
[ article ]


---
Germinating Conversations: Agriculture in India and Global Implications

Sushant Agrawal is the director of a large agricultural development program in India. Come hear about some of the challenges of farming in the Indian context and converse about the implications for global agriculture.
<10px> Thursday, October 15, 2015, 7:00 PM10px> Marpeck Commons, Canadian Mennonite University
2299 Grant Ave., Winnipeg
Germinating Conversations is hosted by Canadian Mennonite University (Canadian School of Peacebuilding), Mennonite Central Committee and A Rocha Canada.
Book Launch for Voices of Harmony and Dissent: How Peacebuilders are Transforming Their Worlds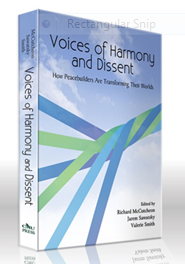 If you are in the Winnipeg area, please join us for the launch of our new book.
Tuesday, June 16, 2015
7:00 PM

Great Hall
Canadian Mennonite University
500 Shaftesbury Blvd
Winnipeg
In this book, co-editors Richard McCutcheon, Jarem Sawatsky and Valerie Smith invite you to explore the stories, theory and tools of sixteen peace leaders, trainers and activists from around the world. An intriguing mix of styles and perspectives, these peacebuilders describe how they have used their creativity, compassion and frustrations to learn how to peacefully engage and transform the world around them.
Authors include: Ovide Mercredi, Mubarak Awad, Stuart Clark, David Dyck, Martin Entz, Harry Huebner, Ouyporn Khuankaew, George Lakey, Ivo Markovic, Maxine Matilpi, Stan McKay, Piet Meiring, Sophia Murphy, Kay Pranis, and Karen Ridd.
Through inspiring stories, the book takes you on a journey of interrelated themes including women and peacebuilding, nonviolent action for social change, restorative justice, indigenous approaches to change, spirituality and creative arts, circle process, food security, mediation, inter-cultural peacebuilding, and truth and reconciliation.
"This volume teaches again and again one vital insight: peacebuilding in deeply divided communities requires a special combination of radical thinking, creative imagination and engaged action."
—Mairead Maguire, Nobel Peace Prize Laureate
To buy a copy of Voices of Harmony and Dissent, in print form or as an e-book, go to csop.cmu.ca/peacebook.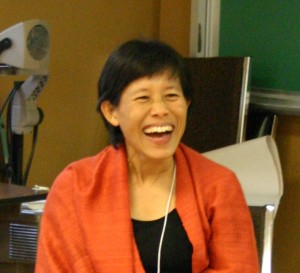 Peacebuilders Mindfulness Retreat – Cancelled

Due to external circumstances, we have had to cancel the Mindfulness Retreat, originally scheduled for June 10 -12. We are disappointed that we are not able to offer the retreat and hope that it will work for us to offer something similar in the future. I apologize for any inconvenience that this change may have caused.
If you are still looking for a chance to connect with Ouyporn and Ginger, you can still sign up for their Women and Peacebuilding course, June 15-19, 2015. If you have any questions, you can e-mail csop@cmu.ca or phone 204-487-3300 ext. 316.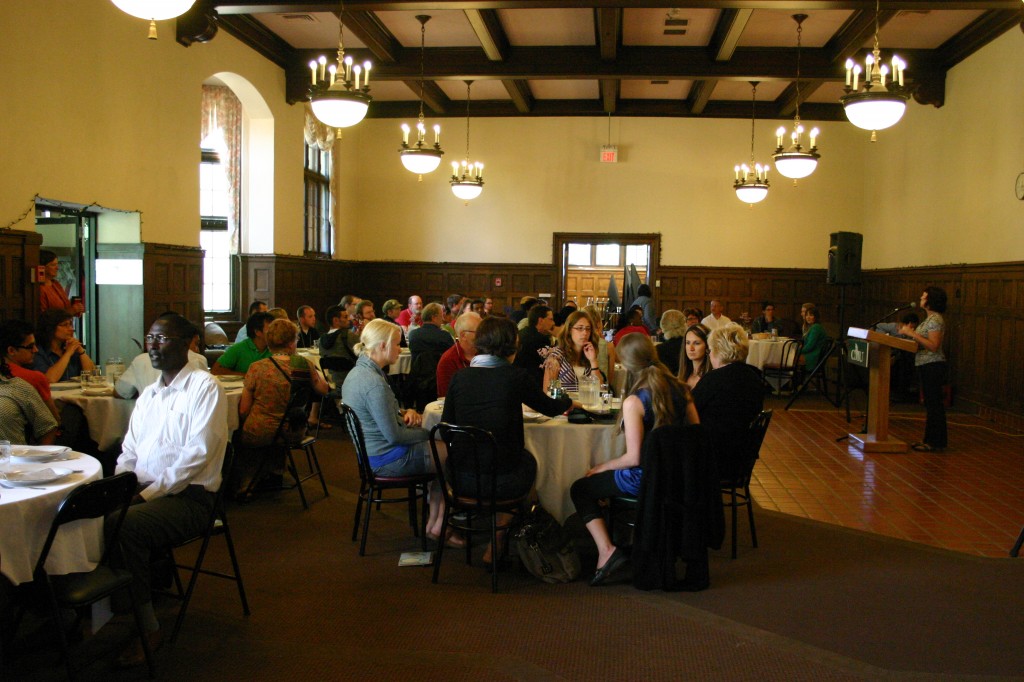 Peacebuilder Banquets – Stories of Great
Peacebuilders Series
Each week during the Canadian School of Peacebuilding we host a lunch banquet of great local food and inspiring speakers. Each speaker is asked to tell stories of people they think of as great peacebuilders. From 2009 – 2013, we invited the general public to join us, but due to the growth of the School, we no longer have space to open the banquets to the public.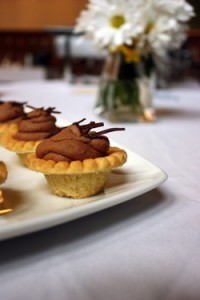 Featured Storytellers

2017
Odelya Gertel Kraybill
Val Napoleon
2016
Dessa Quesada-Palm
Niigaanwewidam James Sinclair
2015
Ouyporn Khuankaew
Leroy Little Bear
2014
Natasha Mohammed
Maxine Matilpi
2013
Armand Volkas, with assistance from the Healing the Wounds: Peacebuilding through Transformative Theatre course
Mubarak Awad
2012
Karen Ridd
Ivo Markovic, with assistance from the Faith, Music and Inter-Ethnic Reconciliation course
2011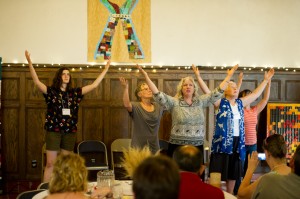 Stan McKay
Michelle LeBaron
George Lakey
2010
Ovide Mercredi
Marc Gopin
Howard Zehr
2009
Piet Meiring
A public lecture by Dr. Ali Aslam of Princeton University, January 22, 2013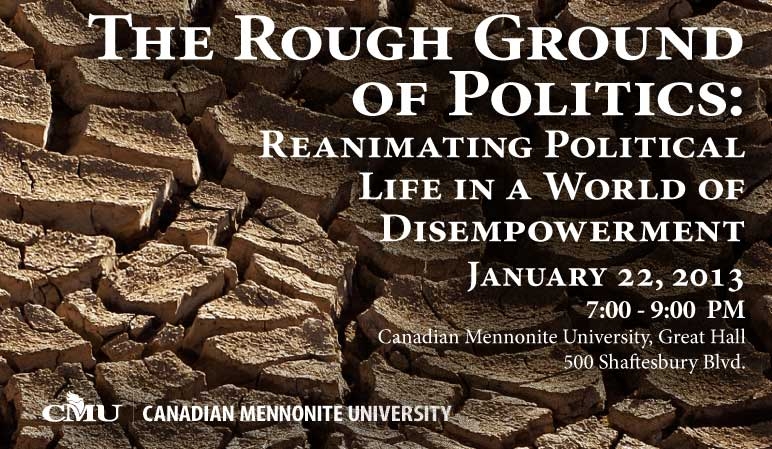 Story + Song Evening, March 15, 2012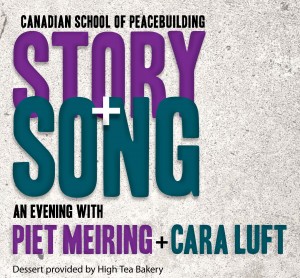 Over 200 people joined us for an evening of Story and Song featuring Piet Meiring, South African peacebuilder, and local singer/songwriter Cara Luft. Dessert was provided by High Tea Bakery.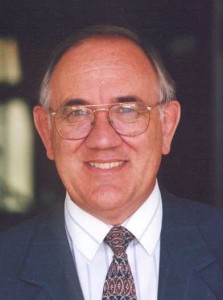 One-day Workshop on Truth & Reconciliation with Piet Meiring, March 14, 2012

Piet Meiring, former Commissioner of the South African Truth and Reconciliation Commission, presented a one-day workshop entitled, "The Perennial Quest for Truth and Reconciliation: Learning from one another's experiences." During the workshop Piet examined the complexities of truth and justice in the journey toward reconciliation. A comparison of the South African and Canadian experiences as well as insights from those experienced in the field were included in the workshop.