CSOP Participant Profile – David Caceres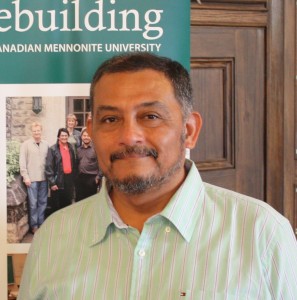 by Aaron Epp
'War is something that no one should live,' says retired Peruvian colonel.
If anyone knows about the realities of war, it's David Caceres.
Caceres, who calls Lima, Peru home, was a colonel in the Peruvian army and served his country during the 1980s and 1990s. Witnessing the atrocities of armed conflict during the Cenepa War, a 1995 border dispute between Ecuador and Peru, caused Caceres to reevaluate what he wanted to do with his life.
"War is something that no one should live," says Caceres, who was in Winnipeg June 17-28, 2013 to study at Canadian Mennonite University's (CMU) Canadian School of Peacebuilding (CSOP). "We should have to respect everyone's life."
After the Cenepa War, Caceres began working for the Peruvian army in a peacekeeping capacity. That led to a job at the United Nations, where Caceres worked for four years as a training officer. In that role, he developed military training materials for the UN's Department of Peacekeeping Operations.
With a wide range of experiences in managing human resources, mediation, and conflict resolution at the international level, Caceres has facilitated seminars, workshops, courses, and training in Africa, Europe, Asia, America, and Latin America.
Caceres is currently the Lima District Manager for World Mediation Organization, where he consults and trains people in mediation and conflict resolution.
He is also in the process of developing the International Peace Studies Center of Peru  that will help enhance the capabilities of communities and government workers to deal with conflicts in Peru so that they can resolve them peacefully.
He studied at the CSOP in June because he wants to expand his knowledge of conflict resolution.
"If you feel like being a cook, you need to have a lot of recipes," Caceres says, adding that the CSOP instructors he learned from have given him a variety of different recipes for, or ways to approach, resolving conflicts.
"I'm putting everything in my bag and I believe I'll use the knowledge and experiences and relationships [I made at the CSOP] so that I can do my job … in the best way."