CSOP Participant Profile – Itiovie Ayeni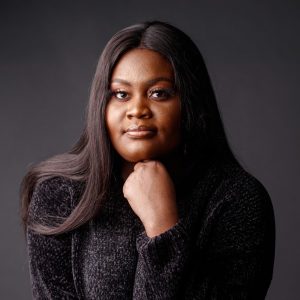 By Nicolien Klassen-Wiebe
CSOP course engages student's passion for supporting refugees
After graduating, Itiovie Ayeni wants to work in services supporting refugees, a cause about which she's passionate. So, when she read the Canadian School of Peacebuilding (CSOP) courses offered in 2021, she knew exactly which one she needed to take.
She enrolled in Refugees and Displacement: Learning to Extend Hospitality, co-taught by Mary Jo Leddy and Dan Epp-Tiessen. Leddy is a renowned Canadian writer, theologian, and social activist, who is known for her work with refugees at Toronto's Romero House. Epp-Tiessen is Emeritus Associate Professor of Bible at Canadian Mennonite University (CMU) and a preacher, writer, and former pastor who explores how scripture intersects with issues of peace and justice.
Ayeni, 25, moved to Canada from Nigeria in 2019 to study for her Master of Arts in Peacebuilding and Collaborative Development at CMU. Before that, she spent a year mentoring young girls in northern Nigeria, where there is a prevalent culture of child marriage. She raised money on her own initiative so the girls under her care could stay in school. "I had to make sure they knew that they mattered," Ayeni said, "because the culture is more like only boys matter, girls don't matter."
When she first started at CMU, she took a course on refugees and forced displacement with Stephanie Stobbe, Associate Professor of Conflict Resolution Studies at Menno Simons College, a program centre of CMU. Ayeni said that while the fight for refugee rights and gender rights are not identical, what she was learning about refugee advocacy "resonated with what I had been doing before."
Her experience at CSOP reinforced those connections, and only strengthened her desire to bring her skills to the field. "Although I had known I wanted to work with refugees, I feel like this class sealed it for me," Ayeni said. "Mary Jo has been working with refugees for more than 30 years, and just hearing first-hand the struggles that people have to go through, it just resonated with me and made me say, 'yes, this is what I want to do'."
Refugees face a lot of challenges when they flee to another country, like Canada. Some are left alone and without a community, facing language barriers, inadequate affordable housing, and stereotypes and stigma. Ayeni didn't come to Manitoba as a refugee, but she could relate to their experiences: "Coming here without a family, just myself, having to look for housing, learn to use the bus, trying to get a job, settling down is something I had to struggle through a bit," she said. Knowing the difficulties of her own experience and realizing the additional struggles that refugees face was impactful for her.
Reading Leddy's book, The Other Face of God: When the Stranger Calls Us Home, alongside Leddy's teaching made theoretical situations come to life—sometimes quite literally. Hidat, a central figure in one of the stories in Leddy's book, actually came in-person to share her story with the CSOP class. Hidat faced deportation decades ago and was given an unfair hearing, with an inadequate translator and a lawyer who slept during the trial. It wasn't until Leddy stepped in and fought for her that Hidat had a chance of staying in Canada.
Ayeni was particularly moved by Hidat's story after meeting her. "This is one person out of thousands of refugees," Ayeni said. "I'm sure there are so many people who do not have that opportunity for anybody to fight for them. They get the ruling and that's it."
Stories like these inspired her to be more aware of what people around her are going through. "This course made me realize I have to slow down and check my environment, check myself. Where have I just ignored someone, where have people needed my help and I haven't paid attention to it and passed by?"