CSOP Participant Profile – Nicole Ternowesky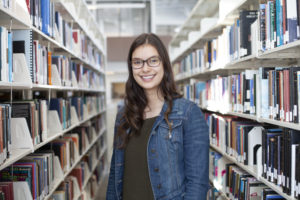 By Nicolien Klassen-Wiebe
CSOP student uses course to enrich youth work
When Nicole Ternowesky first signed up for the Canadian School of Peacebuilding (CSOP), she never imagined it would lead her to a summer job.
Ternowesky, 20, is a third-year student from Brandon, MB, majoring in Peace and Conflict Transformation Studies at Canadian Mennonite University (CMU). After enrolling in a course for the 2019 session of CSOP, she attended a dinner party over Christmas where she happened to meet someone who would be taking the same course at the summer peacebuilding school.
That person was Dwayne Dyck, Executive Director of Westman Youth for Christ (WYFC) in Brandon. Once they made the CSOP connection and started talking, one thing led to another and soon Ternowesky landed the position of Summer Student Mentor at WYFC.
She spent the summer working with youth facing homelessness. WYFC sets up youth with transitional housing in subsidized apartments and helps them apply for Employment and Income Assistance (EIA) to help them pay their rent. Then they create a personal development plan together, working to achieve goals like finishing their high school diploma, getting a job, and improving mental and physical health.
"Basically we just ask them, 'What do you want to get out of this experience?' . . . they decide and then we walk alongside them and provide support and friendship. And we try and let them know that no matter what they do, they always have the relationships," she says. "It's really fun, like I just hang out with youth all day and get to be their friend and connect with them."
During her week at CSOP, Ternowesky took the course, Indigenous Perspectives on Salvation, Repentance, Peace, and Justice with Ray Aldred. He is a Cree man who is director of the Indigenous Studies Program at the Vancouver School of Theology and an ordained minister within the Christian and Missionary Alliance in Canada.
"I took the class because I am really interested in how Indigenous Christians are following Jesus in their own cultural way and I wanted to learn more about that," says Ternowesky, who is Métis.
"It's a really interesting class. I like the idea of incorporating Indigenous ceremonies into Christian worship. I like that he talks about how doing that actually enriches Christianity, because a lot of people are scared it threatens the integrity of the gospel, but actually it enriches our encounter with Christ."
She appreciates how he invited everyone in the class into an Indigenous spirituality, even though many were not Indigenous, and encouraged people to experience Jesus in a new way. "Because as Indigenous people, the ceremonies and practices that we have are gifts, you know? We should be sharing them with people," she says.
Ternowesky was excited to share what she learned with the youth at WYFC. "We have really deep faith conversations a lot of the time, so I'm really excited to bring what I'm learning back to them, because a lot of them are Indigenous," she says. "I feel like it would be cool to help them be proud of who they are and make sure they know they don't have to be one or the other, Christian or Indigenous—they can be both . . . now I feel like I'll be better equipped to have that conversation."
---
Changes to the 2020 Canadian School of Peacebuilding courses and schedule

Due to the ongoing travel restrictions and social distancing directives in place across North America in response to the global COVID-19 pandemic, CMU's Canadian School of Peacebuilding (CSOP) is announcing the following changes to its June 2020 courses.
The following three courses will be offered in online format only:
Leading in an Age of Polarization, with David Brubaker (Eastern Mennonite University).
Does Religion Cause Violence, with William Cavanaugh (DePaul University)
Reconciling Stories: Indigenous Laws and Lands, with Niigaanwewidam James Sinclair (University of Manitoba) REVISED COURSE – this course may be of interest to participants originally registered for Indigenous Politics, Land and Globalization (Rauna Kuokkanen) and Dreaming of Kanata and Canada (Niigaan Sinclair).
The following four courses are cancelled:
Indigenous Politics, Land, and Globalization, with Rauna Kuokkanen
Active Bystander Training, with Joy Meeker
Trauma, Healing, and Reconciliation, with Kelly Bernardin-Dvorak
Dreaming of Kanata and Canada: Indigenous Graphic Novels and Reconciliation, with Niigaanwewidam James Sinclair
For more information please see the news release about changes to CSOP 2020.