CSOP Participant Profile – Ka Boyet Ongkiko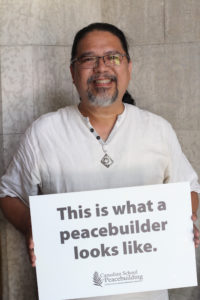 By Nicolien Klassen-Wiebe
Organizational consultant plans to bring learning to Philippines
For Ka Boyet Ongkiko, it was his work in the Philippines that brought him to the Canadian School of Peacebuilding.
Ongkiko, 56, lives in Manila, where he works as a consultant for organizational development. "I try to help make the organization better and more sustainable. So I work on the level of the board, managers, staff, and if the organization wants to go through some changes, I journey with them," he said.
He works with many organizations, including the Coalition of Leprosy Advocates of the Philippines, God is Able International Foundation, and the Department of Agriculture. He is also a senior consultant at Peacebuilders Community in Mindanao and directs a certificate program in community transformation and leadership at the Asian School of Development and Cross-Cultural Studies. While in North America, he also attended gatherings in Toronto and Seattle and did consulting work in New Jersey.
For his first year at CSOP, Ongkiko took the course, Building Change with Human-Centred Design, taught by Roxy Allen Kioko. Kioko is a consultant in strategic planning and change management who has worked in the United States and abroad, and teaches at Eastern Mennonite University in Virginia.
The class did hands-on, project-based work, interviewing people and working through the Human-Centred Design process, learning how to create strategies and solutions to real-world social change challenges that could apply directly to each individual's area of interest.
"It's good. There's a lot of things that are new to me, but there are also things I already know that have been deepened because of the engagement of people—a lot of perspective shared," Ongkiko said.
Among the 17 students in the class, there were more than 10 different nationalities, he explained. "We're really diverse, so you hear a perspective that is not homogenous, you see a variety of exchanges and it's just nice to listen to one another."
One of the reasons Ongkiko came to CSOP was because of the conflict in the Philippines and the engagement of peacebuilders there. A treaty, for which he and others were strongly advocating, was signed between the Islamic group and the peoples of the government group in his area. But now the people are asking, "What's next?" They are entering new territory, working with the government towards implementing the first federal state in the country.
"Definitely what is needed is to sustain the peace, because there are still players outside that are not happy about this . . . plus people are still living in fear, so there has to be concerted effort by all stakeholders to try to make sure peace is sustained." Ongkiko hopes to design programs that will focus on these issues.
"I'm doing a lot of training and a lot of capacity building with different groups, so I hope to also integrate what I have learned [at CSOP] and the things that I've been doing."