CSOP Participant Profile – Katie Anderson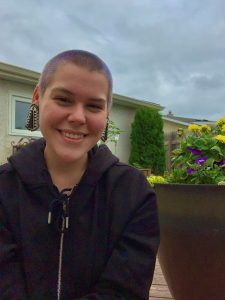 by Nicolien Klassen-Wiebe
CSOP course inspires student to navigate Indigenous and Christian identities
Katie Anderson signed up for the Canadian School of Peacebuilding (CSOP) because with the notoriously full schedule of a music student, she wanted to spread out her course load. But the class quickly became so much more than just getting another credit under her belt.
Anderson, 20 years old and from Winnipeg, is in her third year of a Bachelor of Music with a concentration in early years education at Canadian Mennonite University (CMU). For her first CSOP course, she took Creation and Community in Biblical and Indigenous Perspectives. It was taught by Sunder John Boopalan, Assistant Professor of Biblical and Theological Studies at CMU, and Danny Zacharias, Associate Professor of New Testament Studies at Acadia Divinity College in Nova Scotia and a faculty member of the North American Institute for Indigenous Theological Studies (NAITTS).
The professors and participants examined biblical texts about creation and community, and worked to decolonize scripture by shedding western lenses and instead reading the text through Indigenous lenses. They explored the similarities and differences between Christian and traditional Indigenous values related to creation and community.
"It's super interesting as an Indigenous person and as a Christian to see how they can relate and differentiate from each other," Anderson says. "I'm navigating what it means to be Indigenous and a Christian at the same time and how those can coexist together, so the course was super interesting to me."
She wasn't connected to her Indigenous culture while growing up because her family dissociated themselves from their Indigenous identity as a result of their Christianity. When she started attending CMU and was able to explore faith on her own, she began to see how the two were not mutually exclusive. "That's what I appreciate about courses like this, is you can see where they both exist instead of just one or the other."
Anderson appreciated the format of the course, which ran every morning for two weeks and included a lot of discussion time in addition to lectures. They covered a lot of ground, from capitalism to creation's existence outside of its relationship to humans. Other participants contributed significantly to her learning: "I have a lot of graduate students in my class, so listening to what they interpret from scripture has been really interesting . . . People have made interesting connections that I just never thought about."
Anderson explains this education in diversity will be helpful not only for her personal growth, but also for her future work in schools, where she will teach students and interact with coworkers from countless different cultures and religions. She hopes to take more CSOP courses in the future: "It's exciting to see more classes like this in the curriculum."