"Walking with Our Sisters" comes to Winnipeg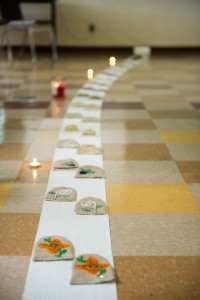 For those of you in the Winnipeg area, from now until April 12, the "Walking with our Sisters" art installation is on display at the Urban Shaman Gallery of Contemporary Aboriginal Art.  The gallery is located at 290 McDermot Avenue in Winnipeg and gallery hours are 10am – 8pm.  The gallery is closed Sundays and Mondays.
At the 2013 Canadian School of Peacebuilding, the "Human Rights and Indigenous Legal Traditions" class participated in making moccasin vamps for  "Walking with our Sisters,"  an art installation created to raise awareness of the hundreds of missing and murdered aboriginal women in Canada.  Other CSOP participants were invited to become involved by walking alongside a visual representation of our forgotten sisters, created by class members.
Check out the video of the CSOP work on this project, get more information on "Walking with our Sisters" and, for those of you outside of the Winnipeg area, take a look at the exhibition touring calendar to find out when the installation will be in your area