CSOP Participant Profile – Lee Kosa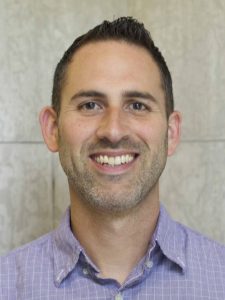 By Aaron Epp
CSOP embodies 'dialogue-based posture' the church needs to take, B.C. pastor says

When pastor Lee Kosa was renegotiating his contract with his church's board last year, he didn't want more money. What he asked for instead was more time off and the opportunity to travel to Winnipeg to study at the 2016 Canadian School of Peacebuilding (CSOP).
The board said yes. Kosa is glad they did.
"(The CSOP has) exceeded my expectations tremendously," says Kosa, who serves as the lead pastor at Cedar Park Church, a Mennonite Brethren congregation in Delta, B.C. "I honestly can't imagine the two weeks going any better."
Kosa thinks a lot about where the Church is going. In his view, the evangelical church in its current form is "monologue-based and defensive in its posture toward culture."
In order for the church to survive, "we have to move toward a more dialogue-based posture toward culture," Kosa says. "I feel like that is embodied at the CSOP."
During his first week at the CSOP, Kosa took Peace Skills Practice with Natasha Mohammed. The course equipped Kosa with tools and models to use the next time he faces conflict.
In his second week at the CSOP, Kosa took Arts and Peacebuilding with Rosanna "Dessa" Quesada-Palm.
It's a fitting course for Kosa, who holds a Bachelor's degree in illustration from the Rhode Island School of Design, and worked in the field of marketing, communications, and design before becoming a pastor.
The course is directly applicable to Kosa's work because his church runs an arts camp for young people. The camp was established when the local public school system began cutting back its arts funding.
At the church's arts camp, children can learn and practice a variety of different art forms, including stop-motion animation, culinary arts, and music.
"I want to see how I can integrate peacebuilding into the arts," Kosa says. "I've just been affirmed (at the CSOP) that there's so much the arts have to give."
Kosa is passionately committed to the lifelong pursuit of becoming a peacemaker at home, in his work, and in his community.
One of the things he most appreciated about his time at the CSOP is that the courses are taught by instructors who not only have an academic background, but are also active practitioners themselves.
"Being taught by people who know the academic world and have an education, but are in the trenches doing this work and have done it for years, it's just so different," he says. "Their voices carry a different authority and weight."
"I'd recommend it to any pastor," he adds. "I'm going to go back to Vancouver telling everyone I know: You've got to go to the CSOP."