CSOP Participant Profile – Alain Tshinza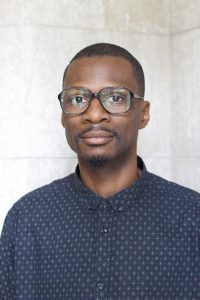 By Aaron Epp
Hip-hop artist, youth worker sharpens his skills at the CSOP

Hip-hop musician, graphic designer, filmmaker, youth worker – Alain Tshinza is involved in a lot of different things. It's these endeavours that brought him to the 2016 Canadian School of Peacebuilding (CSOP).
"Part of the reason I decided to take a class here is to be more relevant in the way I communicate," the 40-year-old said.
Tshinza took the course Reconciling Our Future: Stories of Kanata and Canada with instructor Niigaanwewidam James Sinclair.
He took the class partly because he's a newcomer to Canada – he moved to Winnipeg two years ago – but also because the story of Canada's indigenous peoples resonates with Tshinza's own background. He grew up in Luxembourg, the son of Congolese immigrants.
"When I see the struggles of indigenous people (in Canada) it reminds me of the story of indigenous people in the Congo or any other country in Africa," Tshinza said.
"For me, understanding different perspectives is very important," he added, noting that what he learned about Canada's history at the CSOP will help him in his work. "I want to contribute to empowering people through my music and my art, and I would like to travel across Canada (including to) northern reserves. I would like to make my music and my art more relevant in a social context in terms of building up people."
Tshinza currently works as the executive director at Freeze Frame, Manitoba's Media Arts Centre for Young People.
The centre is a not-for-profit and charitable organization, offering workshops and programs throughout the year, and organizes the International Film Festival for Kids of All Ages each spring.
Prior to moving to Winnipeg, Tshinza earned a Master's degree in visual arts, and worked as a graphic designer for 12 years.
He also directed a handful of documentaries, including a feature length film about hip-hop culture in Luxembourg called Hamilius.
One of Tshinza's passions is mentoring young artists.
"I see myself equipping them through workshops to write their own songs, to shoot their own film, to design their own story," he says.
Studying at the CSOP was a step toward that goal.
"You receive a lot of practical, historical, (and) spiritual information (at the CSOP)," Tshinza said. "What I love is the fellowship that you can have with so many people. I've been in touch with a (Canadian) missionary who lives in the Philippines, someone from Sudan… I consider it a privilege."