CSOP Participant Profile – David Stoesz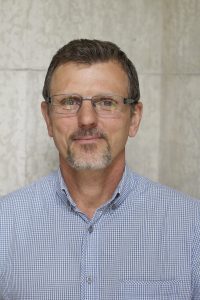 By Aaron Epp
'The take back has been tangible'
Time spent at the CSOP well worth it for school principal
It's difficult for teachers to get time off during the school year – they get most of July and August off, after all – but David Stoesz managed to do it so that he could attend the Canadian School of Peacebuilding last June.
Stoesz, who has been an educator for more than 25 years and currently works as the principal at the Bedson campus of Winnipeg Mennonite Elementary and Middle Schools (WMEMS), is a student in CMU's Master of Peacebuilding and Collaborative Development program.
At the 2016 CSOP, he took The Biblical Story of Healing and Hope with CMU professor Dr. Dan Epp-Tiessen in partial fulfillment of his degree requirements.
"I don't think there's anyone in that room who hasn't had their jaw dropped," Stoesz said of the course, adding that the class is diverse: he estimated a 40-year age range among the 25 students, and noted that the class included six Canadian pastors, a cleric from Bangladesh, and two Muslim students from Iran.
In addition to the variety of perspectives students brought, Stoesz was impressed with Epp-Tiessen's lectures.
"It's been really, really engaging," Stoesz said. "There was a fair amount of reading and writing to do ahead of time (but) that shows up in class. It's paying off. He's really connecting those pieces, and it's dovetailed nicely."
While many educators in his shoes study Educational Administration at the graduate level, Stoesz thought learning about peacebuilding at CMU would be a better way to serve his school.
"The peacebuilding and collaborative development seems to me to be more organically centred maybe on the needs of our society, and as I'm an educational administrator… I'm at the grassroots level of meeting the needs of our society: training children and working with families," he said.
Stoesz takes pleasure in teaching students at WMEMS to have an "attitude of gratitude," something that connects with the course he took at the CSOP, which talked about having an attitude of thankfulness even in the face of hardship.
"You see in the Psalms struggle (and) difficulty, and (yet) so often the Psalms turn to praise," Stoesz said. "Praise is an act of gratitude."
In the end, what Stoesz learned at the CSOP directly applies to his work as an educator – making it easier to get that time off in June to attend.
"I'm able to make the case with my superintendent and get that OK from my board, and support from staff, because (being at the CSOP) is a rare opportunity to actually explore issues of faith and peacebuilding with others," Stoesz said. "The take back has been tangible."