CSOP Participant Profile – Shahadat Hossain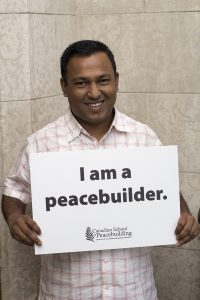 by Aaron Epp
Bangladeshi judge travels to CSOP to learn about refugee response
Growing up, Shahadat Hossain dreamt of contributing to his country's legal system. That dream became a reality, and for the past 10 years, Hossain has worked as a judge.
"In our country, most of the people are poor," said Hossain, who lives in Bogra, a major city in northeast Bangladesh. "Most of the litigant people are poor, and I wanted to do something for them—to help them, to give them justice."
In recent years, Bangladesh has experienced an influx of refugees from Myanmar and the Middle East.
To better understand how they might respond to their country's refugee situation, Hossain and two of his colleagues made the 11,500 km. trip from South Asia to Winnipeg, Manitoba, Canada last June to study at the 2017 Canadian School of Peacebuilding.
At the 2017 CSOP, Hossain took the course Exploring the Refugee Challenge with Dr. Stephanie Stobbe, Associate Professor of Conflict Resolution Studies at Menno Simons College.
"I'm enjoying the course very much," Hossain said in the middle of his week in Winnipeg.
Hossain was struck by the diversity in his class, which included students from the U.S., Canada, Ethiopia, Nigeria, and Iran.
He added that he hopes to return to the CSOP in 2018.
"The environment is wonderful, the people are very friendly, we are enjoying the class, and we are learning something new," he said.