CSOP Participant Profile – Min-Goo Kang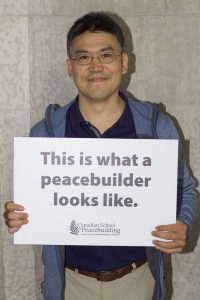 by Alison Ralph
"We're all peacebuilders," Pastor learns at the CSOP
"I didn't define myself as a peacebuilder, but I guess we're all peacebuilders," says Min Goo Kang.
That's one of the most significant things he learned at the 2017 Canadian School of Peacebuilding (CSOP).
A minister at Fort Garry United Church in Winnipeg, Kang first came across the CSOP through a brochure.
"My wife and I have taken other workshops through CMU, and have had a great experience, so we look to CMU for new things."
In his first week at the CSOP, Kang took Expressive Trauma Integration: Caregiving and Conflict Transformation with Dr. Odelya Gertel Kraybill, a leading trauma therapist, researcher, and consultant, with experience as a trainer with the UN in the Philippines, South Korea, China, and Japan.
"I'm interested in learning how to be sustainable, how to sustain myself," says Kang. "Over the last six months I noticed how I'm affected by my family members, and what's going on in the congregation. So, it's critical to be able to access the resources I need to sustain myself, and care for my congregation."
In his second week at the CSOP, Kang took Practices for Transforming the Peacebuilder, with Dr. Ron Kraybill, a peacebuilding consultant with over 30 years of experience, including most recently six years as Senior Advisor on Peacebuilding and Development for the UN in Lesotho and the Philippines.
"This was a course I needed at this time in my life," says Kang. "It helped me to learn about myself in such a deep way, that wouldn't have been possible on my own."
Kang calls the CSOP "world class" and "exceptional."
"The staff, and faculty—this is their vocation, it's not just their job," says Kang. "As soon as anyone walks into the building, they can feel that this is a safe place to be themselves."
Originally from South Korea, Kang and his family moved to Canada in 2007 to pastor a church on Vancouver Island.
"I was working as a second minister in a church with 500 people in South Korea, but I felt something was missing," says Kang. "That's why I came to Canada."
The language barrier was tough to overcome, he says, but he came to a place where he could express himself and understand others, not limited to the use of words.
In 2014, Kang's wife got a call from The United Church in Meadowood in Winnipeg, and he followed.
"Home is when I'm in a place where I can communicate with the holy, with others, and with myself freely, and with authenticity," says Kang. "I know I'm home now."