CSOP Participant Profile – Rudy Friesen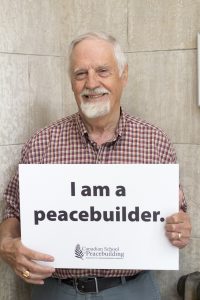 by Alison Ralph
Tutoring newcomer youth inspires retired teacher to come to the CSOP
At 81 years old, Rudy Friesen may be the oldest participant at the 2017 Canadian School of Peacebuilding (CSOP).
"I don't feel that I'm that much older in terms of ideas," he says. "I think I'm still open to new insights, ideas, and stories."
Friesen attends the same church as Valerie Smith, Co-Director of the CSOP, and says he's had many opportunities to hear about it over the years.
"She told me I'd really enjoy [the CSOP], and after three years of her telling me this, I finally came."
A retired teacher, Friesen volunteers his time tutoring recent immigrant and refugee youth at Grant Park High School in Winnipeg, MB.
"I work primarily with Muslim and Yazidi students," says Friesen. "Because of that, I thought I need to learn something about interfaith dialogue. That was the deciding factor."
At the CSOP, Friesen took Peace Resources in Islam and Christianity, taught by Dr. Mohammad Ali Shomali, founder of the International Institute for Islamic Studies in Qom, Iran, and Director of the Islamic Centre of England; and Dr. Harry Huebner, Professor Emeritus of Theology and Philosophy at Canadian Mennonite University.
"It's a great experience," says Friesen. "I've been to all kinds of conferences, but to get a group of well-educated people from all over the world—they're bright, they're sharp, they have experience and they have a passion for peace. To listen to them and engage with them in dialogue—it's a very unique opportunity."
"The age factor from my perspective has not stopped me or slowed me down or influenced others," adds Friesen. "I sit back sometimes and admire how articulate some of the younger folks are in their theology."
What he's learned at the CSOP is very applicable to his work tutoring newcomer youth.
"I want to encourage them," says Friesen, observing that the transition for these young people can be difficult.
"If we're going to live together in community, we might as well understand each other."