CMU News Release about 2012 CSOP participant, Schadrack Mutabazi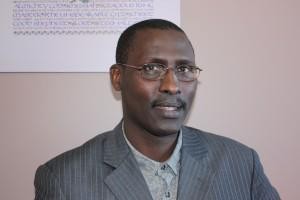 December 5, 2012
CMU Student Schadrack Mutabazi Maintains Hope for Stability and Reconciliation in Africa's Congo
Schadrack Mutabazi is a Canadian Mennonite University (CMU) student who is doing his best to concentrate on his studies and embrace his family's new Canadian home. It's an everyday challenge for him because even oceans can't separate him from the trauma he's faced in his lifetime – and the trauma that continues to plague his family and his country.
Mutabazi was born into the Banyamulenge minority tribe in the Democratic Republic of Congo – which is to say, he was born into persecution and violence. He lived for ten years in exile in Rwanda and five years as a refugee in Uganda, spending his life as the victim of xenophobic persecution and life threatening circumstances, witnessing unspeakable atrocities, and losing many loved ones along the way.
"I have lost many relatives – parents, uncles, brothers, cousins, colleagues, and friends – and I have narrowly escaped life threatening incidents myself. I grew up with no peace, no hope for stability," he said.
While he's been victimized, Mutabazi is anything but a victim. In Africa, he became an ordained pastor and founded the HOPU Organization to bring hope and peace to hurt and suffering people – both those who have been persecuted and the persecutors themselves. "Deep inside, we all have interest in finding reconciliation and forgiveness. Even the perpetrators don't live in peace," said Mutabazi. "HOPU uses music to repair and restore, building bridges between groups of people who have been fighting for their entire lives. We want to see reconciliation. And we will get there someday. But first, we focus on just getting people sitting in the same room together and finding some common ground – through music, poetry, and other cultural activities."
This married father of six children has moved his family – including some of his siblings, for a total of eleven people – to Winnipeg in search of the peace and stability he's been looking for his entire life. At CMU, he is studying Peace and Conflict Transformation Studies and he also attended CMU's Canadian School of Peacebuilding this past summer. He hopes that advanced education will help him continue to lead his people in healing and restitution.
"One of the most important things I've learned during my time at CMU so far has been the power of love and forgiveness," he said. "It sounds so simple, but I've discovered that you must go inward first to find love and healing so that you can help others to do the same. This truth has been profound in my life."
His work has continued here in Winnipeg, through Shalom Christian Outreach and Heritage Outreach, and Mutabazi plans to use his degree to continue promoting peace, unity, and social justice as both a church and a community leader.
When asked about his home country and the atrocities that continue there today, Mutabazi – holding onto his innate strength and optimism – said, "I see great possibilities for peace and reconciliation in the Congo."
"The complexity of the real situation has been unrecognized – or undermined – by the organizations that have been trying to help there," Mutabazi explained, "but God knows what is happening in the Congo. From my experience, I know that with deep spiritual maturity, we can remain positive and learn the process that can support resolution."
"I am one of many who have experienced this extremely challenging journey," he said. "What has happened in my life – the killing, the fear – surpasses all human understanding. But we can still preach the message of peace, love, and justice. God promises us, in John 14:27, a 'peace that the world cannot give.' Peace comes from God, and God has a wonderful plan for the Congo."
This past week, increased tensions in the eastern Congo have sent some of the remaining members of Mutabazi's family fleeing for their lives. Some are safe for now, but have been separated from their families and fears run high. Mutabazi is looking for ways to bring more of his family into Canada.
Article written by Lindsay Wright for CMU.