CSOP Instructor Ouyporn Khuankaew – Activist, Peace Trainer, Role Model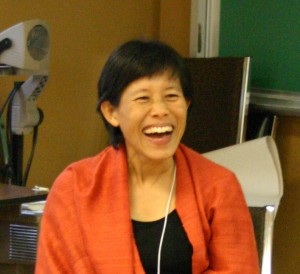 January 11, 2013 –   Ouyporn Khuankaew travelled a long way to teach at the 2012 Canadian School for Peacebuilding (CSOP) at Canadian Mennonite University (CMU) last summer – and she says that it was well worth her journey.
Khuankaew is a Buddhist feminist peace trainer who has been working with activists in South and Southeast Asia since 1995. In 2002, she co-founded International Women's Partnership for Peace and Justice (IWP) which runs its own center and workswith activists in Burma, India, Sri Lanka, and Thailand, teaching Buddhist peacebuilding, non-violent action, counselling for trauma survivors, leadership for social change, gender, and sexuality, feminism and Buddhism for change, and meditation retreats for activists. On a personal level, she is a domestic trauma survivor – and that experience, along with the injustices and gender inequality she has witnessed in South and Southeast Asia – led her to pursue a life dedicated to peacebuilding, and to inspiring a new generation of women to do the same.
"My experience at the Canadian School of Peacebuilding was wonderful," Khuankaew shares. "I loved how the event was organized, with an emphasis on small groups and integrating diverse groups of people. Everyone was so welcoming, so eager to know each other. We were really able to accomplish a lot in a very short period of time. The students especially were very analytical and engaged – especially the young women – and it was exciting to see."
"I hope that the course that I taught inspired them," she continues. "When I was young, we didn't have role models for women doing this kind of work. I hope that I can be that kind of mentor, increasing women's confidence and helping them connect with likeminded people so they don't feel alone in their passions and their efforts. I feel a responsibility to help create a space for women to feel connected and empowered. No one is alone."
"Peacebuilding has become one of the major issues of this generation. We are all in need of peace, whether in family conflicts or widespread war," says Kuankaew. "I admire CMU's commitment not just to peace, but to peacebuilding, and the way they are involving women in the solution. In my work, I have seen the impact of feminine involvement. In Burma, when we teach women to be peacebuilders, they can go back and teach men and women, and they help to increase the role and status of women in their communities."
Khuankaew feels strongly about equipping women as leaders in the peacebuilding process. "In our culture, we assume that women are natural peacemakers," she says. "We see this role at work in our families – and as important as that is, this role should not be confined to the home. We need it on a global level. A woman's perspective and approach is different than a man's. We are uniquely qualified to be peacebuilders. From a young age, we are trained through gender roles to be caring and loving, to share and listen and experience – and that is the foundation of peacemaking. It doesn't need to be taught. We intuitively understand the emotional and psychological aspects of peacebuilding. We need to be committed to deliver the training required to empower women to take that understanding and use it to impact the world around them."
"We need to use our hearts, and use more than intellect and logic to solve our issues," says Khuankaew. "Our world is in trouble because we use our heads without our hearts. When we use our hearts, there's no argument or anger there – it equalizes us. Women are more in touch with that. But in the end, we all need to work together. It's not a matter of men versus women, it's humans working toward a solution, together."
Article: by Linsday Wright for CMU       
Photograph: of Ouyporn Khuankaew, courtesy of CMU