CSOP Participant Profile – Leda Garcia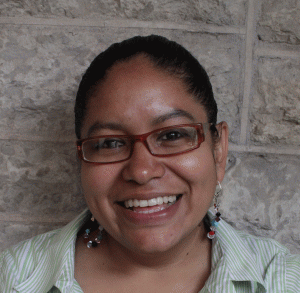 by Ellen Paulley
Canadian School of Peacebuilding equips student with tools to work in restorative justice

Leda Garcia says her time at the Canadian School of Peacebuilding (CSOP) equipped her with the tools and knowledge to work effectively in the field of restorative justice.
An institute of Canadian Mennonite University, CSOP is a community of diverse peacebuilders who come together to learn, network, and engage in peacebuilding.
Prior to attending CSOP, Garcia says she had some knowledge of restorative justice, but wasn't sure of "how to put everything together." After taking the course "Restorative Justice with Youth and Schools," Garcia says, "Now I have the tools and I know how to use them."
Garcia intends to use her restorative justice knowledge in her work at home in Honduras. Working with the Mennonite church, Garcia has been involved in mediation and peace programs in schools.
"We're trying to tell the kids they don't have to go through life with a gun, beating people up to make a living," she says.
Garcia has also worked with a friend to establish a mediation program in the school her friend's children attended, in response to a wave of violence that was occurring in the school.
She's passionate about working with youth and encourages them that they don't have to be involved in a life of violence. "They can change, there is an opportunity," she says. "They have to work hard but they can make it out."
Growing up, Garcia didn't have a strong relationship with her parents and says she had role models who "weren't the right ones." As a youth, she says she heard God's voice call her and felt that she needed to find peace within herself.
"To make peace around you, and to find peace, you have to make peace with yourself; find that forgiveness place," she says.
Garcia spent one year in Canada as part of Mennonite Central Committee's International Volunteer Exchange Program. She says she wanted to visit Canada to experience being in a place where there's "peace all around."
She was also interested in learning about how concepts of justice vary from place to place. "Justice is always related to the culture, to the community," she says. "What is justice to you could probably be security and welfare. For us, it could be as simple as having clothing or food for one year." Once basic needs are met, it's then possible to pursue other types of justice, says Garcia.
Prior to coming to Canada, she was studying ecotourism in university. But she says her time at CSOP assured her that's not her path. "My way will be community development," she says. "I know that feels better in my heart."
Garcia's advice to those who are considering coming to CSOP is to not be afraid of stepping outside of their comfort zone and to be open to growing and changing.
"I've grown more in this time than I've grown in my entire life, in ways that I didn't know I needed to grow," she says.