CSOP Participant Profile – Ali Shakeri, Mohammad Hozourbakhsh & Mohammad Barteh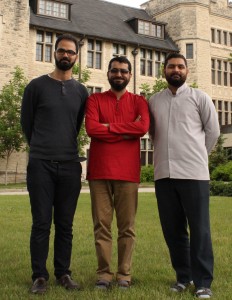 By Aaron Epp
Iranian graduate students discover new ideas at Canadian School of Peacebuilding

Did you know that the 2015 Canadian School of Peacebuilding (CSOP) took place during Ramadan? Three of its students were very aware of this.
Ali Shakeri, Mohammad Reza Hozourbakhsh, and Mohammad Rida Barteh traveled from their home in Qom, Iran to study at the CSOP. The three graduate students practice the Muslim faith, and so spent mid-June to mid-July fasting from sunrise to sunset as part of the annual act of worship.
According to Islamic belief, Ramadan is meant to commemorate the first revelation of the Quran to Muhammad.
The purpose is for Muslims to practice the presence of God in their daily life, Hozourbakhsh said.
"(The purpose is) to feel it more, grasp it more, and to share it with others, and to understand the hunger and thirst of poor people," he said.
Being in a Christian atmosphere at Ramadan was a completely new experience for the three.
"Participating in classes in which all members are drinking and eating and we just have to (watch) is also new," Shakeri said.
While all three had been to CMU prior to their visit in June – they were part of a group of graduate students from the International Institute for Islamic Studies (IIIS) in Qom, Iran who visited CMU March 8-18 to take a course in Christian Systematic Theology – it was their first time studying at the CSOP.
All three enrolled in the course The Justice of God: Questions of Justice in the Bible and the World, taught by Dr. Christopher Marshall, Professor of Restorative Justice at Victoria University of Wellington in New Zealand.
Barteh said the things they learned in the course will help them in their careers as university professors.
"There are two kinds of thinking," he said. "The first is that you focus on differences between people and (the other is) finding similarities and coming together, and sharing the similar things we understand about humanity and the goal of life and the good life.
"We think this course (will) help us to find the simplest and best way (when working with) people from different nationalities, different races, different backgrounds, different nations. That's why we are here."
Barteh added that he and his colleagues enjoyed studying with Marshall.
"We found him to be a very devoted Christian," Bareh said. "Every day, he comes up with ideas that are really genuinely new to us… Chris is a really informative person."
The trio were invited to study at the CSOP after their visit in March.
That visit stemmed from a series of dialogues that began in 2002 that bring together Shi'a Muslim scholars from Iran and Mennonite scholars from Canada and the U.S. The goal of these dialogues is to improve understanding between Muslims and Christians.
The dialogues have resulted in a series of exchanges that have seen Iranian students from the IIIS travel to Winnipeg to study at CMU, and vice versa.
"We hope this process will be ongoing in the future," Bareh said, "and we appreciate this recent invitation (to study at) the CSOP."