CSOP Participant Profile – Bridget Crisp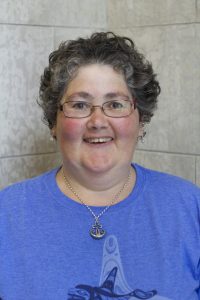 By Aaron Epp
New Zealand nun starts her sabbatical at the Canadian School of Peacebuilding

Ask Bridget Crisp what the best part of being a nun is and she's quick to answer.
"It's never boring," said Crisp, 46, who is a Sister of Mercy in Auckland, New Zealand. "People's perception is that religious life is set in routine. Yes, you have your routine times that you pray, but your prayer and your work could be different each day… It's never the same."
Take travelling to Canada for the first time ever, for instance.
Crisp got to do that this past June when she made her way to Canadian Mennonite University in Winnipeg for the 2016 Canadian School of Peacebuilding (CSOP).
For Crisp, her two weeks at the CSOP were the start of a yearlong sabbatical that also included stops in South Carolina and New York.
Crisp enrolled in the courses Peace Skills Practice with Natasha Mohammed, and Peacebuilding Through Community Development with Judie Bopp and Michael Bopp.
Crisp figured studying at the CSOP would be a great way to add to her skillset. She was not disappointed.
"I'm excited and saturated like a sponge or a prune or a date – stacked with knowledge that I still have to process," Crisp said during her second week at the CSOP, adding that she would spend time on her sabbatical processing what she learned and discerning what she can use when she gets back to New Zealand.
"(The CSOP shows) you topics and strategies, and it's up to you to look at your peace toolbox as to which are going to be worthwhile, while keeping in mind the ones you might need down the line," Crisp said.
"There's a richness and depth to the ideas as well as the approaches that you can't just process in a day. You have to do some serious thinking."
Crisp has always had an interest in social justice. That interest was further developed when she was a student studying agriculture at Massey University in the late '80s and early '90s.
She attended anti-nuclear protests, and got involved in causes like whaling and apartheid.
One of the first things she did when she became a nun was create a community garden.
Crisp and her colleagues work with members of the community – primarily people on a low income – and teach gardening skills, as well as how to cook nutritious meals on a budget.
Crisp is happy she started her sabbatical at the CSOP.
"It's been a fantastic experience."