CSOP Participant Profile – Mary Jane McCallum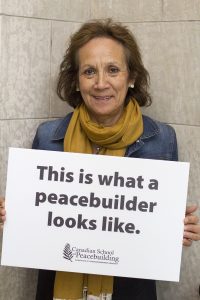 by Aaron Epp
Senator finds strong spirituality, support at Canadian School of Peacebuilding
One of Canada's newest senators is an alumnus of CMU's Canadian School of Peacebuilding.
Dr. Mary Jane McCallum, who was appointed late last year as one of two independent senators to fill vacancies in the Senate, studied at the CSOP in 2016 and 2017.
McCallum is a First Nations woman of Cree heritage and an advocate for social justice who, over the course of her distinguished career, has provided dental care to First Nations communities across Manitoba.
She is believed to be the first Indigenous woman in Canada to become a dentist.
A residential school survivor, McCallum came to the CSOP to learn about peace skills she could use in her work in northern communities.
"Because I was in residential school for 11 years, I came out of the process very angry and very aggressive, and I was tired of being like that," McCallum said.
She spoke with a Mohawk elder about her anger, and the elder advised McCallum that if she wanted to learn about peace, she should go to the Mennonite community.
"'They're the peacebuilders of the world,'" McCallum recalled the elder saying. Fifteen years later, McCallum found the CSOP.
Last June, McCallum took the course Human Rights and Indigenous Legal Traditions with Val Napoleon, a professor from the University of Victoria in B.C.
McCallum was inspired to take the course after her experiences working in her home community of Brochet, MB, located 1,200 km. north of Winnipeg near the Saskatchewan border.
In Brochet, McCallum managed community health programs, including a children's dental program, a diabetes program, and a prenatal program. She also volunteered for several committees, including a housing committee, a school committee, and an education committee.
She also ran a monthly dinner and meeting with the Elders to discuss social issues affecting the community.
McCallum wants to see northern communities thrive.
"What did we have before that helped us sustain healthy communities?" McCallum asks. "How do we make our way back to some of the healthier habits or healthier conditions we had before?"
Although she was intimidated by the prospect of studying with a group of lawyers, McCallum enjoyed Human Rights and Indigenous Legal Traditions because it gave her additional tools to use in her work.
"When you're raised in a violent community, sometimes you don't see any hope, but there are resources," McCallum says. "You can do different techniques, different disciplines that will help people to move toward healing, to move toward reconciliation."
Studying at the CSOP, McCallum says, has been part of her spiritual journey.
"To me, this is an environment that's safe," she says of the CSOP. "There's strong spirituality, there's support. What more could you want?"