CSOP Participant Profile – Yousuf Abdulaziz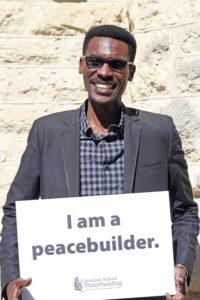 By Nicolien Klassen-Wiebe
International human rights worker finds professional development at CSOP
Yousuf Abdulaziz is no stranger to peacebuilding and human rights work. He has worked for the International Committee of the Red Cross, the United Nations Children's Fund (UNICEF), and Save the Children in the Central African Republic.
Abdulaziz, 42, is originally from Sudan but moved to Egypt with his family. He now works with Save the Children in Iraq, leading the child protection program in the whole country. His program does everything from monitoring and reporting child rights abuses, psycho-social rehabilitation for children, and reunification with families.
But as he has worked in human rights, he has found that short-term emergency responses aren't enough to help in the long-term picture. When he heard about the Canadian School of Peacebuilding (CSOP) from a friend, he knew he had to take a course.
Abdulaziz took Peace Skills Practice with Natasha Mohammed, a community counsellor, mediator, and victim impact worker who has taught for almost two decades.
At first, he wasn't sure if he was going to learn anything new, because many concepts in the first class were familiar. But by the next day, he knew he was wrong. For the rest of the week, he was learning new idea after new idea.
"Most people who work in areas of armed conflict like me, when we say peacebuilding and conflict resolution we are always thinking of armed conflict and people who are fighting," says Abdulaziz. "But when I came here I discovered that it's not only about that." He learned that conflict can also be in your own personal life, between family and friends, and is affected by social and cultural elements.
"It's amazing," he says of the course. Around 75 percent of the material has a direct connection with his work. He especially appreciated when the course discussed social programming, because that's currently part of the program Save the Children is running for children in Iraq, whether it's spaces for kids to draw and play or programs for parents about positive parenting and discipline led by community facilitators.
During the week of the course, Abdulaziz had already started sharing his learning with his team in Iraq. "Now it's not only a personal gain, but also I feel like the organization itself is going to gain from this course at CSOP."
"I was telling myself really I'm regretting not attending this course before," he says. "Can you imagine if I had this three or four years ago? It might make a lot of change in my life and in my career, which will of course have a positive impact on children in the areas where I'm working."