CSOP Participant Profile – Bob Gilbert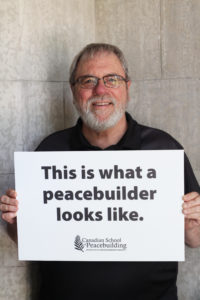 By Nicolien Klassen-Wiebe
Minister uses CSOP knowledge to resource church community
Bob Gilbert has been a minister in Manitoba for 24 years, and for the last several of those, the Canadian School of Peacebuilding (CSOP) has played an important role in equipping him to serve his community.
Gilbert, 66, is the minister at Augustine United Church in Winnipeg, where he has served for the last seven years. It is an inclusive, affirming church that is active in seeking justice in its community and the world. He takes classes at CSOP as part of the continuing education opportunity his job provides him.
This year, his fourth time attending CSOP, he took Generous Dissent: Nonviolent Activism and Resistance with Dr. Emily Welty, member of the 2017 Nobel Peace Prize winning International Campaign to Abolish Nuclear Weapons and director of Peace and Justice Studies at Pace University in New York City.
"It's great," Gilbert says of his class. "Not only is the topic fascinating, but the readings she's chosen are also interesting. She's a really good teacher, conveying her topic with passion. She uses all different kinds of modalities and engages us."
He first heard about CSOP from members of his church, some of whom had attended in the past. Now he's bringing his learning back to that community. He took a course on Indigenous-settler relations, titled Reconciling Our Future: Stories of Kanata and Canada, with Dr. Niigaanwewidam James Sinclair a few years ago. As a class, with the guidance of Sinclair, they came to the conclusion that education and getting to know people face to face were key ways to proceed as settlers.
"That inspired me to take the invitation to have circles for reconciliation at our church, which is a grassroots movement which brings together Indigenous people and settlers," Gilbert says. "They meet once a week for 10 weeks in a circle, and talk about issues that…stem from colonial policies and attitudes. A lot of our church people attend and have come to a very different place in their lives."
Another of his courses motivated him to give a workshop on the Mennonite Church Canada resource, Wrongs to Rights: How Churches can Engage the United Nations Declaration on the Rights of Indigenous Peoples, at his church during Lent. "I come here partly for my own nurture and refreshment, but I also do it for what I can bring back to my faith community and my daily work with them."
Gilbert is part of the Just Living group hosted by Augustine United Church, which meets monthly and is open to anyone, whether religious or not. They gather for fellowship and discuss different subjects, sometimes bringing in guest speakers. Two other participants from the group also took Dr. Welty's course with Gilbert and together they plan to bring back their learning to the Just Living group, as well as the broader church.
"I've been really thinking that Christians need to begin to think seriously about non-violent action. That's been on my mind for quite a while…climate change, some of the things that are happening in the world right now, if we're going to affect change, this is the most effective way to do it. Not all of us are called to do it, but I'm hoping to excite and educate folks about what that would entail…going further than just petitions and letters and taking some risks."