CSOP Participant Profile – S.M. Islam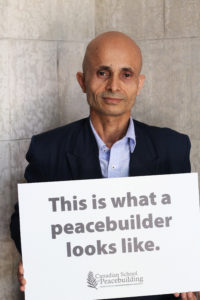 By Nicolien Klassen-Wiebe
From injustice to peace
CEO of human rights organization brings CSOP learning home
When S.M. Rafiqul Islam received an email from the Canadian School of Peacebuilding (CSOP) advertising their 2019 program, he signed up for not one, but two courses.
Islam, 47, is from Bangladesh, where he is CEO of the Rural Mother and Child Health Care Society, a non-governmental, non-profit organization. Despite the name, the work of the 27-year-old organization is not limited to women and children. It works in all the major sectors of development in Bangladesh, including health, education, human rights, global peace, emergency response, and climate change.
They are also an accredited partner of the United Nations (UN), working to implement the UN agenda wherever they are able. "We're working to make the globe a safer place for the next generation," he said.
At his first week of CSOP, Islam took Peace Skills Practice with Natasha Mohammed, a community counsellor, mediator, and victim impact worker who has taught for almost two decades. "I learned a lot of things, because our course instruction is very fantastic and she has a lot of experience," he said. "What I learn from her I can use in my practical life, in my personal life, in my community, among my office and my staff, in my program's division." He said he'll be able to take his experiences at CSOP and use them as he trains others in peacebuilding and development work back home.
During his second week, he took Justice, Peacebuilding, and a Theology of Struggle with Dann Pantoja and Gordon Zerbe. Pantoja has worked as a pastor and started a peacebuilding institute with his wife in the Philippines, where he is a Mennonite Church Canada witness worker. Zerbe is a Professor of New Testament at Canadian Mennonite University and has taught and worked in the Philippines with Mennonite Central Committee.
Islam explained that violence is pervasive in his country, both at home and in the workplace. "In Bangladesh there is a great lack of peace . . . the peace in Bangladesh, it is an emergency." He added that the government focusses only on development and not social justice, but that "without peacebuilding, no development is meaningful." This is why peacebuilding and leadership training is so important.
He's working on bringing this message to the 12,000 volunteers and 3,500 staff within his organization, many of whom are women and youth. "If we practice and send volunteers place to place, and they're connecting the social leaders, political leaders, and community leaders, and counselling them about making peace, then I think that it could be good for the future."