CSOP Participant Profile – Marissa Rykiss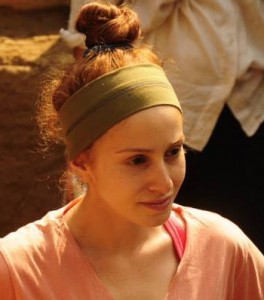 by Aaron Epp
'I'm really grateful … It was a very inspiring time in my life,' says Marissa Rykiss
For Marissa Rykiss, attending the Canadian School of Peacebuilding was nothing short of life changing.
The 22-year-old Winnipegger enrolled in the course "Women and Peacebuilding" at the 2012 CSOP as part of a B.A. program in Conflict Resolution Studies at Menno Simons College.
Inspired by her mother, who practices collaborative law, Rykiss wanted to pursue a career as an immigration lawyer in order to make a difference in the world by helping vulnerable people.
After finishing the course, Rykiss realized she wanted to help people in a different way. Now, she plans to pursue a Master of Arts degree in Family Therapy.
First though, Rykiss is becoming a certified yoga instructor. She wants to teach yoga and potentially open her own studio.
Rykiss says her interest in teaching yoga stems from her desire to help people develop their self care so that they can be better people and lead more compassionate, empathetic lives.
"After taking [the CSOP] course, I realized there's so many other ways I can help people, and I don't necessarily need to have a title like lawyer to do that," she says. "My happiness, and the happiness of others, is more important to me than having a title like that."
Ouyporn Khuankaew, a Buddhist feminist peace trainer from Thailand, and Anna Snyder, associate professor of conflict resolution studies at Menno Simons College, taught the course.
Rykiss says it was the way the course was taught that impacted her so greatly.
"Ouyporn had a non-traditional way of teaching where she offered guided meditation at the beginning of each day, and it just allowed us to become a bit more mindful while we were present in the class," Rykiss says. "She is one of the most inspiring and engaging women I've ever met."
When the course ended, it was emotional for Rykiss.
"I cried on the last day and was so happy that I decided to participate in that particular course," she says. "It felt like it was meant to be. It made me ask myself why I need to be pursuing something (a career in law) that isn't consistent with who I am, and helped me understand that where I need to be is in a more transformative pathway—helping people who can't help themselves get to a place of awareness and mindfulness.
"It wasn't intended in the curriculum, but that's just what I got out of it. A lot of people who participated were put off originally by this new way of thinking, but by the end, everyone there had experienced profound change in the way they thought about learning."
Rykiss's experience in the course led her to pursue a practicum placement in Thailand with International Women's Partnership for Peace and Justice (IWP), an organization Khuankaew co-founded.
Rykiss's work in Thailand included helping with a weeklong workshop for women that IWP organized. Each day began with yoga. While Rykiss had practiced yoga before, it was during this week that she came to fully appreciate the healing nature of yoga therapy.
"I realized … how important it is for people to learn how to be better to themselves, to treat themselves better and come back to themselves through yoga and meditation," she says.
The practicum and change in career direction would not have happened without Rykiss's transformative experience at the CSOP.
"I'm really grateful that I was able to take a course where everything could be condensed into five days," she says. "There are such a variety of courses [at CSOP], and [the organizers] go out of their way to find people to teach the courses who have first-hand experience with the material.
"It was a very inspiring time in my life."