CSOP Participant Profile – Folake Aderibigbe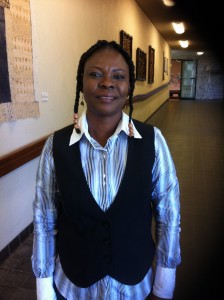 By Aaron Epp
CSOP helps parliamentary aid from Nigeria advocate for women's rights

Violence in the home, sexual harassment at school and work, rape and defilement, enforcement of gender-biased laws, harmful traditional practices – these are some of the things women in Nigeria face.
Through her role as an assistant in Nigeria's parliament, Folake Aderibigbe is working to peacefully change her society's views on women so that they are treated equally.
"Women are not able to talk about it because our culture or society does not allow these things to be said," Aderibigbe says, "but I think it's better to come out and say what's going on."
Aderibigbe, who is writing a book about domestic violence and its effects on children, traveled from her hometown of Lagos to Canadian Mennonite University (CMU) in Winnipeg this past June to study at the university's Canadian School of Peacebuilding (CSOP).
Aderibigbe took a course titled Women and Peacebuilding, which explored women's involvement in peace action, research, and education.
The things Aderibigbe learned in the class will be useful in her work as a parliamentary aid. Only seven of Nigeria's MPs are female, and Aderibigbe plans to brief them on what she learned.
In Nigeria, women are traditionally "to be seen and not heard," Aderibigbe says, but she feels it's important to speak up.
"I'll use my pen. I'll (prepare) a write-up and give it to the MPs," she says. "We (women) need the same education, we need the same rights. We need to network, we need to have a voice, we need to come together as allies."
While the Nigerian government recently began passing laws prohibiting violence against women, many women are still afraid to come forward.
"It's hectic (and) sometimes it's difficult," Aderibigbe says.
She hopes her work, and sharing the things she learned at the CSOP, will influence the MPs to create even better legislation to protect women.
Born and raised in Lagos, Aderibigbe worked hard to get where she is today.
She has a Bachelor of Arts in Philosophy, as well as graduate degrees in International Relations and Public Administration from the Lagos City University and the University of Lagos, respectively.
After democratic rule returned to Nigeria in 1999, Aderibigbe was among the first sets of people employed to work in parliament.
In addition to assisting six MPs, Aderibigbe's work includes writing. Five years ago, she published her first book. A Decade of Positive Legislation examines the history of Nigeria's current parliament and how it works.
As the mother of a 15-year-old girl, issues of violence against women are close to Aderibigbe's heart.
She says her experience at the CSOP was positive.
"The experience has been good," Aderibigbe says. "The people are loving and ready to accommodate (students)… The environment is serene and it's conducive to learning."
Aderibigbe hopes to bring some MPs with her when she returns to the school in 2016.
"I hope they will come here so that they can better serve their constituents."