CSOP Participant Profile – Brooke Nagle and Lenora Yarkie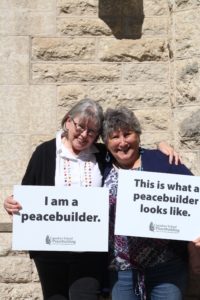 By Nicolien Klassen-Wiebe
A community of change-makers
Connecting with peacebuilders at CSOP empowering and inspiring
Before Brooke Nagle and Lenora Yarkie were even finished their 2019 Canadian School of Peacebuilding (CSOP) courses, they had already chosen their course for next year's session.
"This is our third year at CSOP," says Nagle. "I've gotten a lot out of these courses. I find they're really thought provoking and useful in the volunteer work that I do."
The two women met in El Salvador while volunteering as election observers for the presidential election in 2014. Yarkie, 69, from Alberta, was doing human rights work on Canadian mining in El Salvador with the United Church of Canada. Nagle, 63, from California, was working in the country with the organization Center for Interchange and Solidarity, which runs schools, clean water projects, and provides scholarships for students.
Now, years later, CSOP is an opportunity for the friends to reconnect every year. Although they keep in touch and sometimes see each other at the border of Arizona and Mexico, where they live with a group of Catholic nuns and do volunteer work with migrants, Yarkie says, "CSOP is a special time."
This year, she took Peace Skills Practice with Natasha Mohammed, a community counsellor, mediator, and victim impact worker who has taught for almost two decades. Nagle took Making Music, War, and Peace with Dr. Svanibor Pettan, internationally renowned lecturer, researcher, and chair of the ethnomusicology program at the University of Ljubljana, Slovenia.
Not only is CSOP a chance to take fascinating courses and catch up with old friends; it's also a place to form new relationships. "The ability to meet other students, both Canadian and international, who are struggling with some of the same issues in their own countries and hearing their experiences, I think this is huge," says Yarkie.
Last year, Nagle and her husband travelled to Bangladesh after being invited by a Bangladeshi judge whom they had met at CSOP the previous year. "The people have been very interesting, very inspirational, from around the world. I find it a very impressive program," she says.
Yarkie emphasizes how meaningful it is to meet people who are on the same page as you and who really understand what you're talking about, even if you've never met before and are from opposite sides of the world.
"You always meet somebody here who is either interested in the international work you're doing or who has done the same thing," she says. Sometimes they've worked or visited more recently and can provide an update on the situation. "There's a connection there and there's a shared learning. This is what I really love."
The way the world is these days, it's comforting and empowering to be around people that can relate and are doing similar work, Nagle says. "There's power in that sense of unity." "You don't feel like you're alone in doing this sort of stuff," Yarkie agrees.