CSOP Participant Profile – Zina Hamu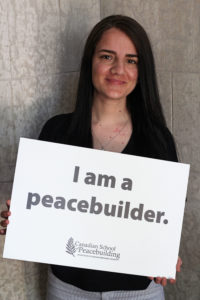 By Nicolien Klassen-Wiebe
Yazidi student finds hope in sharing stories at CSOP
When Zina Hamu entered the classroom for Trauma, Peacebuilding, and Resilience – Level 1, the course she was taking at the Canadian School of Peacebuilding (CSOP) last June, she walked in with a very personal perspective.
Hamu, 23, is a survivor of the Yazidi genocide in northern Iraq.
She was in her last year of high school, hanging out with her friends and making goals for her future, hoping to be a pediatrician. Then in August of 2014, ISIS attacked her village. While their homes burned and people were being killed and abducted, she fled with her family and neighbours to the mountains. It took two days to get to safety, walking in 40-degree heat with no water or food. After almost two weeks, they arrived in a refugee camp, where she discovered that few people in her village had survived. More than five years later, people are still living in refugee camps, including her family.
In addition to the course on trauma, taught by Vicki Enns, Clinical Director of the Crisis & Trauma Resource Institute, and Wendy Kroeker, Assistant Professor of Peace and Conflict Transformation Studies at Canadian Mennonite University (CMU), Hamu also took Making Music, War, and Peace with Dr. Svanibor Pettan, internationally renowned lecturer, researcher, and chair of the ethnomusicology program at the University of Ljubljana, Slovenia.
While taking the first course, Hamu said, "It's kind of heavy because it's about trauma, but at the same time it's very interesting, because we in the class, we international people, share our different stories and learn from each other. I'm also happy to share my story with them, and so we all can learn from each other."
In the refugee camp, which held more than 3,500 families, she worked with women and children at a health centre and kindergarten. She was also a photographer, capturing not only the struggles of living in the camp, but also the rich tradition and culture of her Yazidi people.
She was told she could still take the final exams to graduate high school, but she didn't see how she could possibly pass because she had no books. "There was nothing in my head but trauma. I felt like I was dead and there was nothing good left in life for us." But the exams came, and she passed them all.
In 2017, she had the opportunity to go to LCC International University in Lithuania. It was at a photo exhibition put on by the university that she met Cheryl Pauls, President of CMU. Hamu received a scholarship to study at CMU as a war-affected student and is now in her second year of studying International Development Studies, wanting to help people who are suffering around the world and back home. "I get the chance to study here. I'm very grateful for it."
It was in her classes that she heard about CSOP. She was intrigued, but it was only when she was immersed in the environment that she realized what she would gain from it. "Every person's stories … they gave me a lesson to learn from it and apply to my life and other's lives too. I'm very inspired about the knowledge they bring in the class and they are willing to build peace. Some of them talk about their projects they do to help the people and the work they do, so I think I can learn from their experiences and I can do something for my people, too."