CSOP Participant Profile – Ha Na Park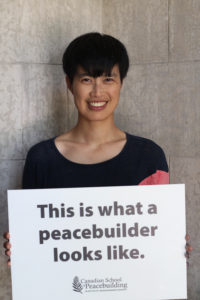 By Nicolien Klassen-Wiebe
"This school certainly builds a peacebuilder"
Minister inspired by the transformation CSOP created in herself and others
Ha Na Park enrolled in the Canadian School of Peacebuilding (CSOP) when she witnessed firsthand the transformative impact it can have on people's lives.
Park, 39, migrated from Korea to Canada in 2007 and now calls Winnipeg home. She is an ordained minister in the United Church of Canada and currently serves as the minister at Immanuel United Church in Winnipeg, where she has worked for the last two years.
Her partner took a few CSOP courses in recent years, and she watched as every morning he got excited to go to class. "In the last course he took at CSOP, I saw real transformation," she says. "He was challenged by the instructor when he asked a question and he really took the challenge seriously. I could see that challenge began to shift something . . . I could really see the change at home and in other things and relationships."
He became more attentive and dedicated to dismantling his own patriarchal actions. She thought, "This school certainly builds a peacebuilder! I became very convinced that something great happens here." She registered herself almost immediately.
For her first class at CSOP, Park took Trauma, Peacebuilding, and Resilience – Level 1, taught by Vicki Enns, Clinical Director of the Crisis & Trauma Resource Institute, and Wendy Kroeker, Assistant Professor of Peace and Conflict Transformation Studies at Canadian Mennonite University (CMU).
Park says she appreciated the diversity amongst the participants and how inclusive the environment was. "I have been so delighted to see how [the instructors] were so willing and able to really create this space for everyone to participate with truth and being fully themselves. Everyone has been encouraged to express their thoughts and questions without hesitance," she says. "And the subject is exceptionally important and unique, linking the individual psychological trauma healing with justice aspects of peacebuilding."
Park sees many ways in which she can apply the new knowledge she learned at CSOP in her faith context and is interested in learning more about how this kind of work is taking place outside the church. "I really hope that my learning from the course can change me and inform me in the lens of trauma so that I can more properly listen and share stories with everyone," she says.
She is also absorbing her learning in a personal way. "I began to see my own lived experience through the lens of trauma, even though I don't consider my life events as more classic trauma events. But for example, patriarchy can be slow, systemic trauma for some people. So I'm really taking this learning . . . to see where I am and it has been helping me in the process of healing too."